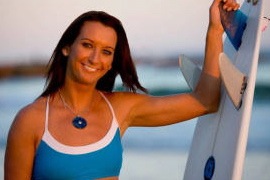 Layne Beachley is the most recognised surfer in Australia. As a new member of the Surfing Australia Board in 2010, she brings an undisputed level of credibility as both a competitive surfer and a professional businesswoman. With 7 ASP World Titles and a total of 29 tour victories her competitive record is unmatched. She has also given so much back to the sport of surfing through her public profile, 15 years of active service on the ASP board and staging the richest ASP Women's World Tour event for 5 consecutive years. Outside of surfing through her own charity, the Aim for the Stars Foundation, girls across Australia have received $400,000 in financial grants to assist them with pursuing their dreams and achieving their goals. Layne is also an ambassador for The National Breast Cancer Foundation, Day of Difference Foundation, Planet Ark and Tourism NSW.
Wayne 'Rabbit' Bartholomew AM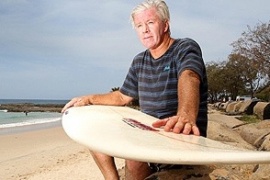 Wayne Bartholomew finished his career with no less than nine Top Three finishes in World Championships, including three wins, three runner-ups and three third placings. He was ensconced in the World Top Five for ten consecutive years. After retiring, Rabbit fulfilled his vision by taking the helm of world professional surfing, becoming CEO of ASP International for four years and President for ten. He was not only a charismatic figurehead, as an administrator he implemented radical and revolutionary measures that finally delivered the dream of multi-­million dollar sponsorships and events.
Bartholomew retired from the helm of the ASP to take on the Chairmanship of Greencell, a green technology entity that has developed new age applications to sequester greenhouse gases. The environment was always Rabbit's other great passion and he is bringing his highly motivated ambitions to this new frontier of science and technology. He was awarded an AM on January 26, 2009 for being a champion, an administrator, a mentor and for work in the environment. He is now a Patron of Surfing Australia.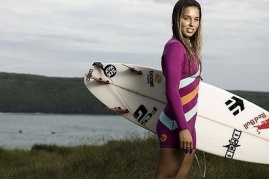 Sally had her first significant results at the age of 14 becoming the youngest surfer, male or female, to win an ASP Pro Junior (U21s) event. She continued to set records throughout her junior years winning the Australasian Pro Junior Series in 2007 and 2008 and the World Qualifying Series in 2008 and 2010. At 16, Sally represented Australia at the ISA U18 World Surfing Titles in Portugal, to win her first ISA World Title. She backed it up the following year, winning the Billabong ASP U21 World Title and her Third World Title, the ISA World Games Open Title.
In 2010, 2011 and 2012 Sally finished 2nd on the ASP World Tour, showing she will be a genuine World Title contender for years to come. Sally is an inspiring, vibrant, fit and determined woman, driven by competition and a need to push her limits. She promotes healthy living and active lifestyle and embraces her position as a role model. Her motto is to "Live your passion!"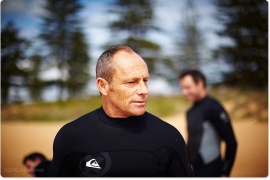 The world's most lethal wave is Hawaii's Pipeline and it was here that Tom Carroll, the short, muscular man from Newport, Sydney, displayed his mastery of the sport of surfing. Carroll has won the Pipeline Masters three times – on each occasion, amazing the surfing world with his skill, finesse and fearless approach in the face of the ocean's awesome power.
Tom Carroll has done almost everything. He's had 26 professional victories throughout the world, competing in conditions ranging from wave pools, through to his most favoured arena in Hawaii. He has finished in the world's top 3 seven times, which includes two World Titles in 1983 and 1984, while also just missing in 1986, and finishing third in 1985, 1988 and 1991. He won the Triple Crown in 1991.
Carroll's great rival through the 1980s was Tom Curren and one of his most memorable victories against this opponent was at the Bells Classic in 1984. Carroll was the first surfer to win Bells on his backhand. This vertical attack sparked an era where backside surfing became an advantage.
In 1987 he finished second to Greg Norman for the Australian Sportsman of the Year award. Tom's path to fame has not been without obstacles. His surfing has resulted in numerous leg, back and internal injuries, but his phenomenal conditioning and terrier-­‐like attitude to competition, has seen him through two decades of competitive surfing. For 10 consecutive years from 1983 to 1993, Tom was voted Australia's favourite surfer by the TRACKS surfing magazine readers' poll. Australian surfers are proud of their international competitors and none deserve this adulation more than Tom Carroll.