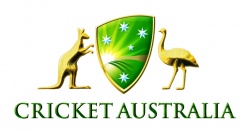 On the 2nd March 2011 Cricket Australia were guest of the Sports Advocacy Group in Parliament House. The dinner focussed on reviewing the Ashes series, past, present and future. We were extremely lucky to have as the guest of honour, cricketing great, Greg Chappell. Greg spoke engagingly on a wide range of topics and was a fascinating guest to have at the dinner.
Guests included: - Greg Chappell (National Talent Manager and former Austrlalian cricketer), Alex Blackwell (Australian cricketer and Captain of the NSW Lend Lease Breakers), Paul Reiffel (International Umpire and former Australian Cricketer),  and Damien Brown (General Manager of Game Development).
The guests spoke about the young players, the Ashes, 2020 cricket, Greg Chappell's career highlights,concern for Australia's cricketing future, the greatest Ashes moments and more. All the video footage of these interviews can be seen below in a playlist or on our YouTube channel.